Vinyl Signs, Graphics, & Banners
View Vinyl Sign Gallery
Need something that offers ultimate versatility while maximizing surface space? We have the solution.
Our Houston vinyl installations bring stylish and adaptable designs to your business. Making full use of floor, ceiling, wall, window and door space, vinyl offers the crisp, clean look many people want. Many of our customers use vinyl window clings, vinyl lettering, custom banners, and even vinyl vehicle wraps to raise awareness of their organization, generating interest in sales and offers.
Are you unsure of what type of vinyl product would best fit your needs? Dream Signs & Graphics's experienced consultants provide on-site evaluations to help you determine what type of signage elements will best suit your space and goals!
Call Dream Signs & Graphics at 281-240-6409 for your Free Consultation!
Promotional Banners
The most popular vinyl product by far would be our promotional banners. Vinyl banners provide the widest range of options available; with size, weight, color, and display all customized to your needs. All of our banners are printed on durable vinyl, designed to display your business information and marketing messages professionally and impactfully. These banners are perfect for supporting your staff at an expo, driving traffic to specific areas of your business, and announcing grand openings or promotions.
Whether you need on-site banners or an entire tradeshow display, Dream Signs & Graphics works with your goals to ensure an expertly designed and professionally executed banner complete with all supporting structures or accessories needed for proper display or hanging.
Window Clings & Film
Window-display vinyl is the go-to choice for businesses looking to utilize doors and windows in their business promotion. These impactful outdoor signs strengthen your brand, raise awareness of sales and promotions, attract more traffic, and present a professional image to customers and potential customers.
Depending on budget and business needs, window display vinyl can be a full or partial solution, incorporating key messages, logos, events, sales, specials and more, through visually-striking, attention-grabbing designs that connect you to your target market.
The versatility of the material means it can also be used to offer privacy in large glass-enclosed spaces or businesses that perfer to keep their interior private.
Using frosted or design patterns to block-out unwanted eyes, vinyl is a cost-effective solution commonly used in office blocks, medical and dental facilities to create the feeling of confidentiality. Etched window film can incorporate your branding or logo for a completely customized finish that provides a professional appearance to your business.
Cut Lettering & Graphics
Versatile, stylish, adaptable and cost-effective, vinyl is a pragmatic and beneficial signage option for many businesses. Its features make it stand out as the number one choice for a range of companies who want aesthetically pleasing and function designs that make a splash while strengthening brand value.
Starting with your front door, cut lettering and graphics can be applied to provide pertinent information that your customers need. Your hours of operation, business license, and accessibility are easily applied utilizing our cut letters or graphics solutions. These cut vinyl elements are attractive and provide a professional way to not only share your information but also to build brand recognition and awareness to your customers.
The best way to achieve your goals is through cohesive signage throughout your facility. Dream Signs & Graphics has the experience and dedication you need to help grow your company!
Wall Murals & Floor Graphics
If you're looking to turn a wall, floor, or ceiling into an attractive, eye-catching feature, Dream Signs & Graphics can help. We ensure that customers see your key messaging wherever they look with installations that are as effective indoors as they are out. We can cover large areas without compromising print quality, meaning your signage can be attached to your building, stuck on the sidewalk, or applied to just about any surface, all while generating interest and revenue for you.
Wherever you want your signage installed, our vinyl solutions will deliver. From the boardwalk to brickwork, concrete to hardwood, no installation is too tough for us. If you have a need, we have a solution.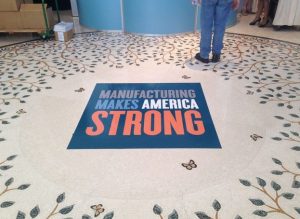 Our staff is eager to use their industry knowledge to deliver a variety of solutions to exceed your marketing goals. From design through production, installation, and maintenance, our team will ensure your requirements are fulfilled and that they deliver steller signage solutions.
Are you looking for a dynamic and impactful way to impress your clients? Floor graphics may be your solution. They are ideal for providing directional support to your guests or when attending tradeshows and events. For all of your vinyl sign and graphic needs, Dream Signs & Graphics is your dedicated Houston provider.
Attractive Branded Signage
With so many options to choose from with vinyl, it can be frustrating to know what option best fits your needs, budget, and brand. Our experts will work to understand what your business is all about so we can deliver the vinyl option that best fits your space, goals, and target audience.
Vinyl can be used in many ways and places throughout your facility, and to accomplish a wide array of business objectives. Whether you want to increase brand awareness, improve facility navigation and the customer experience, or create a fun, engaging, and safe workspace for your employees, we can help you accomplish those goals with well-designed and well-placed vinyl signage.
Popular uses for vinyl graphics include:
Our design team fully customizes all of our vinyl solutions. This allows you to have personalized banners, business signs, graphics, murals or display elements that take your business to the next level. You don't have to know anything about vinyl to get exactly what your business needs when you work with Dream Signs & Graphics.
Full-Service Sign Company
Our process starts with a free consultation, helping us understand the needs of your Houston, TX business. From initial discussion all the way through to end installation, we focus on putting the needs of you and your company first.
Our graphics team will deliver stunning and spectacular solutions designed to draw the attention of consumers while our manufacturing staff will expertly craft your signage in our state-of-the-art facilities. Finally, your sign will installed by our pro installation team. Each stage is checked for quality assurance, meaning if we're not happy it doesn't get put in place.
Vinyl is a wide-ranging solution for many businesses but it can sometimes be tough to see how it applies to you. Under our expert guidance, we can show how your business can utilize it for maximum effect.
Free Vinyl Signs & Graphics Consultation
Get the ball rolling with a free, no-obligation consultation with one of our Houston signage experts. We'll explore a range of options, giving you a variety of choices that will suit your business needs and goals.
Vinyl signs from Dream Signs & Graphics are practical, affordable, and professional, making it easy for you to get the right promotional, wayfinding, and customer support signs your business needs.
Call Dream Signs & Graphics at 281-240-6409 for your Free Consultation with a Vinyl Graphics Specialist!