Yard Signs
View Sign Gallery
Do you need to create awareness for your company, for one of your future events?
You can do this with the help of a yard sign. These signs ensure visibility for your business or event, without involving huge expenses. They are also a good fit for political candidates seeking more popularity and votes or to raise awareness about important issues.
Dream Signs & Graphics has the fastest production technology for yard signs to help you get what you need now! Our modern equipment and well-organized manufacturing process is our guarantee that you're going to have all your signage ready in time for your event.
Call Dream Signs & Graphics today at 281-240-6409 for your Free Consultation with a Yard Sign Specialist!
Promotional Signs for Business
Whatever your business, yard signs will help you boost its visibility. We are ready to assist you with the creation of the most impactful, high-quality yard signs that are proven to work. Our clients are retail stores, production businesses, services providers, but also political candidates and non-profit organizations.
Yard signs can play multiple roles:
Build visibility and awareness for a special event or trade show
Advertise your business offer
Support you throughout new product launches or promotional activities
Inform your guests about various aspects of your business
Create awareness for your construction company
We are a complete signage production house. This allows us to offer you a full range of services, from design to manufacturing and installation. If you don't need custom design services, we are happy to use your ready to print graphics. If you aren't sure on a design, we will be delighted to develop an impactful and creative concept for your yard signs.
We have what it takes to create high-quality materials you're going to be proud of. Depending on your needs and specific requirements, we may even be able to offer you the same day or next day production, everything within the budget you set!
Custom Real Estate Signage
Real estate agents make heavy use of yard signs. They understand the power of these simple, yet practical marketing tools, and as such use them for multiple purposes.
These real estate yard signs advertise open houses, properties for sale, and offer information that may be useful to potential clients seeking for homes to buy or rent.
We can do way more than customizing your signs. We can also create custom sign holders so that you can benefit from a unique and eye-catching look of your materials. We are always willing to go the extra mile to make you choose us as your long-term Houston yard signage provider.
Political & Campaign Signs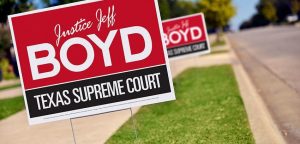 Yard signs become tremendously popular during election season. They are flexible and portable, so there's no wonder most candidates prefer them over other options. Besides, they are reasonably inexpensive, and this makes them the perfect materials to hand over to constituents during rallies. You can make them available to your fans and followers on your website, or you can ask your supporters to hand them out.
Free Yard Sign Consultation
When it comes to creating the perfect signage for your Houston business needs, we start with our free initial consultation. We want to know you better and to understand your business needs before developing a concept for your yard signs. We take pride in offering fast and efficient service to get what you need when you need it!
Call Dream Signs & Graphics today at 281-240-6409 for your Free Consultation with a Yard Sign Specialist!